4Power Bikes Go faster!
Arm power added to EZ-3 recumbent
These photos show the arm-power retrofit added to an EZ-3 recumbent tricycle. Arm-power will be the same on the EZ-1 bicycle, since it is the same as the EZ-3 from the seat forward.
Here's an overview: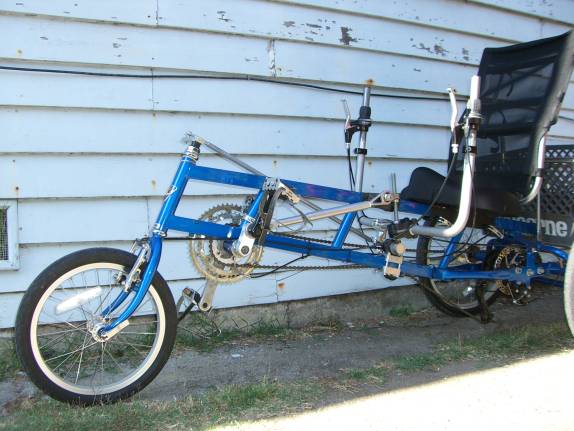 higher resolution image
...and a look at some of the details: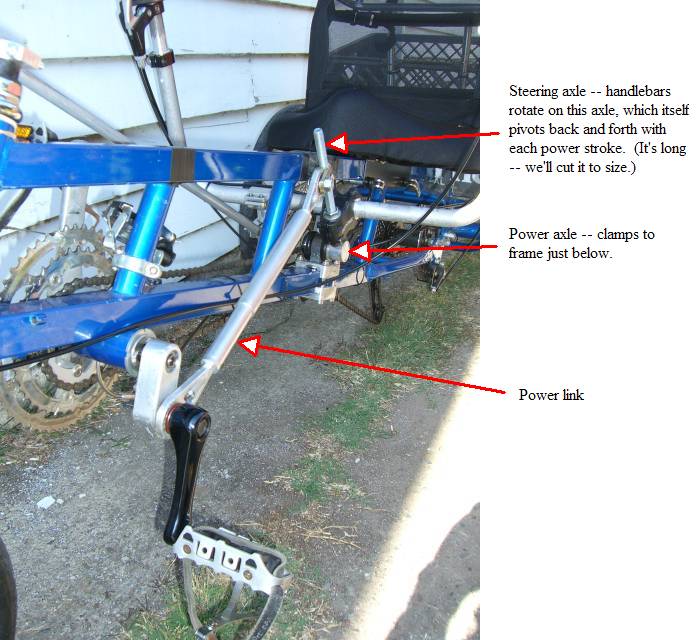 higher resolution image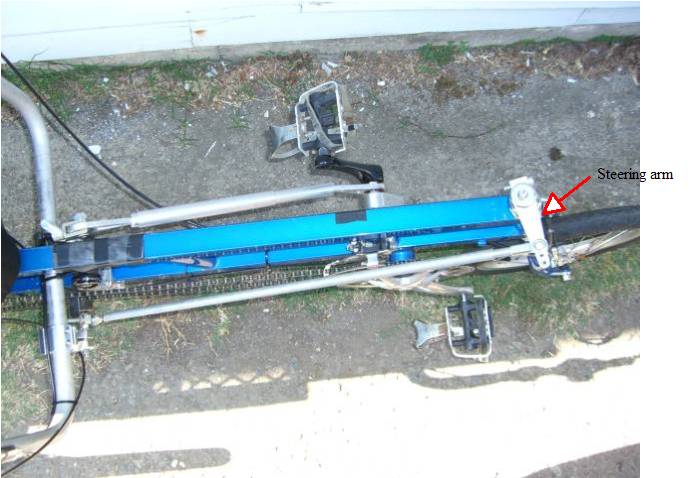 higher resolution image
This top view shows the power link on the left side of the bike, and the steering link on the right side. The steering arm goes in place of the normal stem.
The clamp on the handlebars that connects to the steering link (also see next picture) is temporary – now that we've got the geometry worked out we'll make a more compact clamp and connecting arm.
Both the power link and the steering link are made of telescoping aluminum tubes with an internal clamp – so the handlebars can be repositioned.



Another view of the temporary clamp on the handlebars.

The key to it is that the rod-end bearing at that end of the steering link is aligned with the axis of the power axle/bearing. The back-andforth power strokes don't affect steering.


higher resolution image
Here are more recent photos, showing the finished steering arms: (left) the stem steering arm; (right) the handlebar steering arm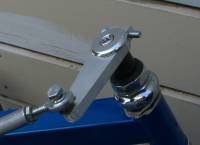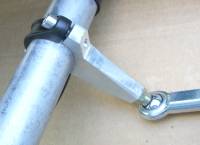 This is the lovely stem steering arm that we had numerical-control machined. We couldn't use it on the EZ because we couldn't get the right steering ratio (chain interference problems with positioning the handlebar steering arm and the steering link).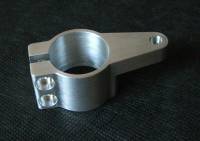 Home | FAQ | Background article | ICE Trice photos | EZ-3 photos | Videos | Contact